Published by admin on 26 Nov 2007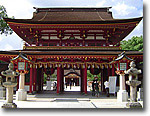 Today's Dazaifu is regarded as the well known tourist destination in Kyushu, Japan. Dazaifu or "Government-General Headquarters" was established approximately 1300 years ago and ruled all Kyushu area for period of some 500 years.
Visiting this historical site on Friday, Nov 23, has reminded me to an old city of Kotagede in Yogyakarta, Indonesia. Even though these two sites are different to some extent, however they are similar in terms of their important role in the past as the center of governmental headquarters. Kotagede was established some hundred years ago and was the center of the early Mataram Kingdom which was later divided into Kasultanan Yogyakarta (Yogyakarta Kingdom) and Kasunanan Solo.
Back to Dazaifu. There are numbers of historical sites which reflects to the ancient history of Dazaifu, including ruins of the Dazaifu itself, ruins of Mizuki, ruins of Onojo, Kanzeonji Temple, ruins of Chikuzen Kokubunji Temple and Dazaifu Tenmangu Shrine. These sites are distributed around the Dazaifu region.
Dazaifu Tenmangu Shrine is dedicated to the Michizane Sugawara, "the God of Literature". In 901, Sugawara was abruptly exiled from Kyoto as the Dazaifu official by the Emperor's court, and he died two years later. The shrine was built over his grave and was constructed in 1591 A.D.
Kanzeonji Temple, mentioned in The Tale of Genji, was opened in about the year 746 at the command of the Emperor Tenji to honor the deceased Emperor Saimei. The temple flourished as one of he key religious centers for Kyushu, as reveled by the many Budhist statues and its temple bell, which has been designated a national treasure and is the oldest in Japan.
Ruins of Dazaifu-Seicho (Dazaifu Government Office). Dazaifu-Seicho, also known as "Tofuro", was once the place of the government office for entire Kyushu region. This place played an important role in defense of the western Japan and as a diplomatic gate from the second half 7th century through Nara and Heian period (710-1185 A.D).
Kyushu National Museum, the largest national museum in Japan is built in this site. It exhibits Japan's cultural formation from Paleolithic period to the end of modern age (1850's) with their basic philosophy: "Museum with formation of the Japanese culture from the Asian historical viewpoint". (Some of the information is cited form the Daizafu: Home of the Chikushi Manyo Poetry leaflet, with modification).